Interactive Boardroom Display
Interactive boardroom display allows users to interact with digital content on a large display in real-time, enhancing collaboration and productivity. Ultra LED Display has been providing top notch boardroom display since its establishment.
Sizes available are: 65″, 75″, 86″ display
Description
Introduction:
An interactive boardroom display enables users to make vibrant visual presentations and control on-screen data through digital touchscreen interactions. Interactive Ultra LED Display (IULD) is a  large-format touchscreen display ideal for meeting rooms and conference halls.
Features:
Endless Canvas/ Pages
Multi-language recognition
Multiple-finger gesture recognition and control
Text and Shape recognition
Screen casting
Screen recording
Advantages
It can be used for Active learning, Presentation, Video Conferencing etc.
Engaging and Informative
Built-in software
Time and cost saving
Increased interactions and collaborations
Decreases the gap between teacher and learner
High quality content consumption. Bezel Less
HDMI, VGA, Ethernet Interface
Pixel Composition 1R1B1G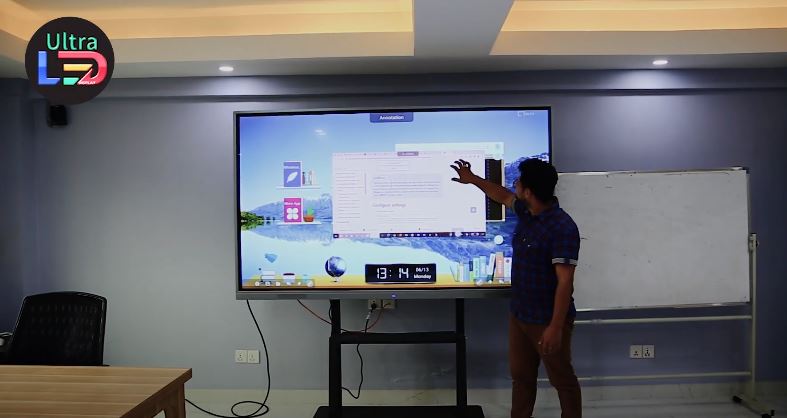 Benefits
Enhanced support for all learning styles
Inclusive and flexible learning environment
Greater efficiency for time-strapped users.
Aesthetically pleasing
Applications
Office Display Solution
High Resolution conferences and meetings
Smart, Digital and Interactive Classroom
Product's feature demonstration device
Labs and Experiments can be conducted with the display
Endless canvas and quality touch input make this display appropriate for artists, painters etc.